What are the Best USB Audio Interfaces?
Finding the best USB Audio Interfaces
In this roundup, we've chosen the best Thunderbolt and USB audio interfaces for Mac and PC in 2021. Your audio interface is most likely your most important piece of recording equipment if you're a bedroom producer. Interfaces allow you to accurately listen to your music, track instruments and vocals, and even color your sound in pleasing ways, depending on the preamps.
When it comes to choosing an audio interface, USB audio interfaces are ideal for the majority of home production needs. They're usually small and light, and they can run on USB bus power rather than an external power source. There are a variety of USB audio interfaces available at a variety of price points.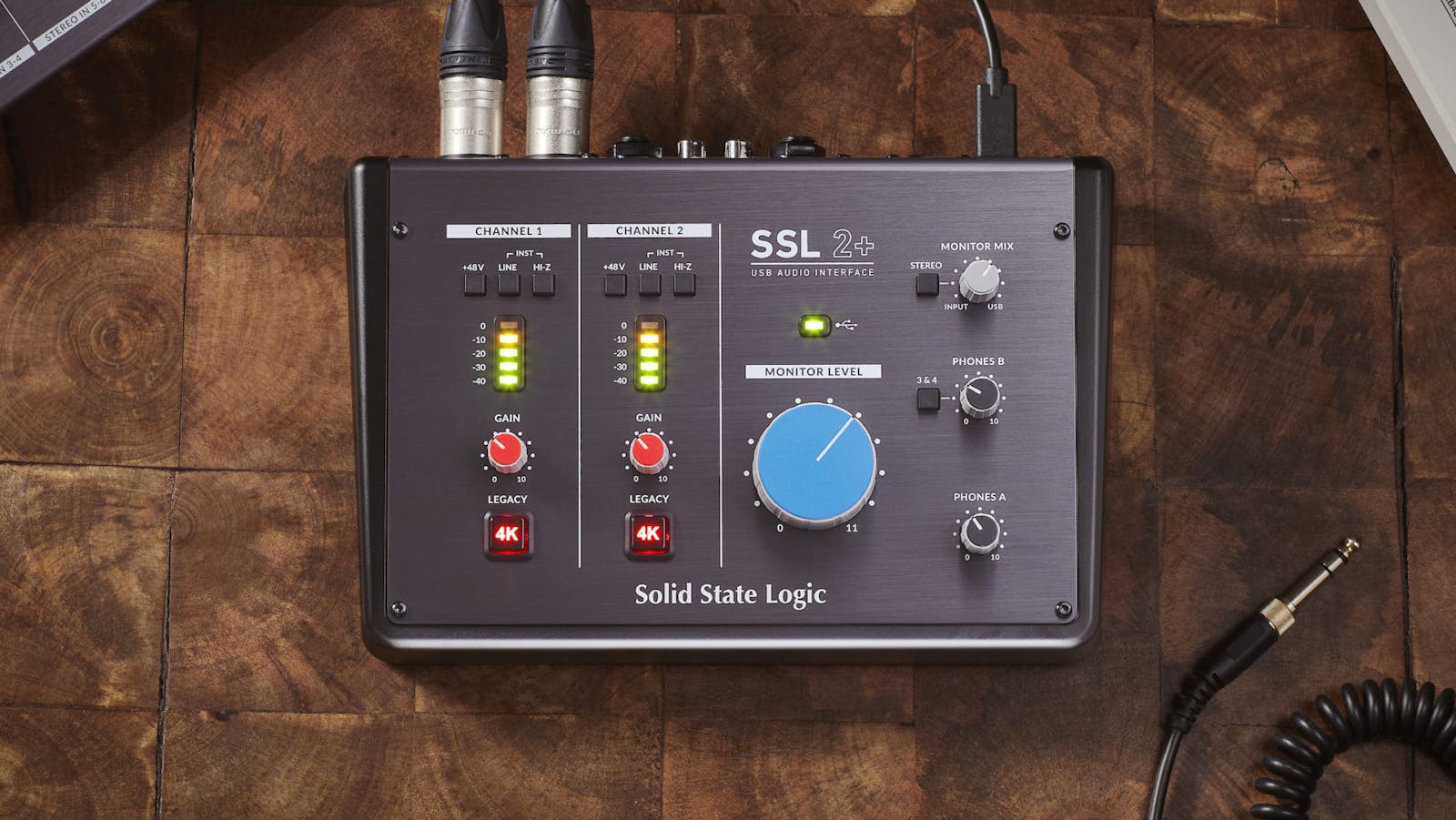 Inputs: 2 x XLR-1/4″ combo
Outputs: 2 x 1/4″ TRS, 2 x dual RCA, 2 x headphone jacks,
OS: Mac/Windows
Connectivity: USB-C
Pros: Authentic high-grade SSL build quality, "Legacy 4K" circuit for the "SSL sound," MIDI I/O is a nice touch
Cons: You can get comparable I/O for less money
With the SSL2 and SSL2+, you can get the rich sound of SSL's world-renowned boards in the comfort of your own home. But don't be fooled by the low price: these are serious units, with two top-notch mic preamps with separate +48V phantom power switches and a "Legacy 4K" circuit, allowing you to get the "analog color enhancement" that the company's recording consoles are famous for. It's now possible to get it in your own home studio.
This is another USB interface that uses bus power and is compatible with USB 2.0, making it ideal for on-the-go producers. The SSL2 and SSL2+ feature the signature knobs from SSL's legendary consoles, which is an underappreciated feature of this audio interface. You can't go wrong with this place.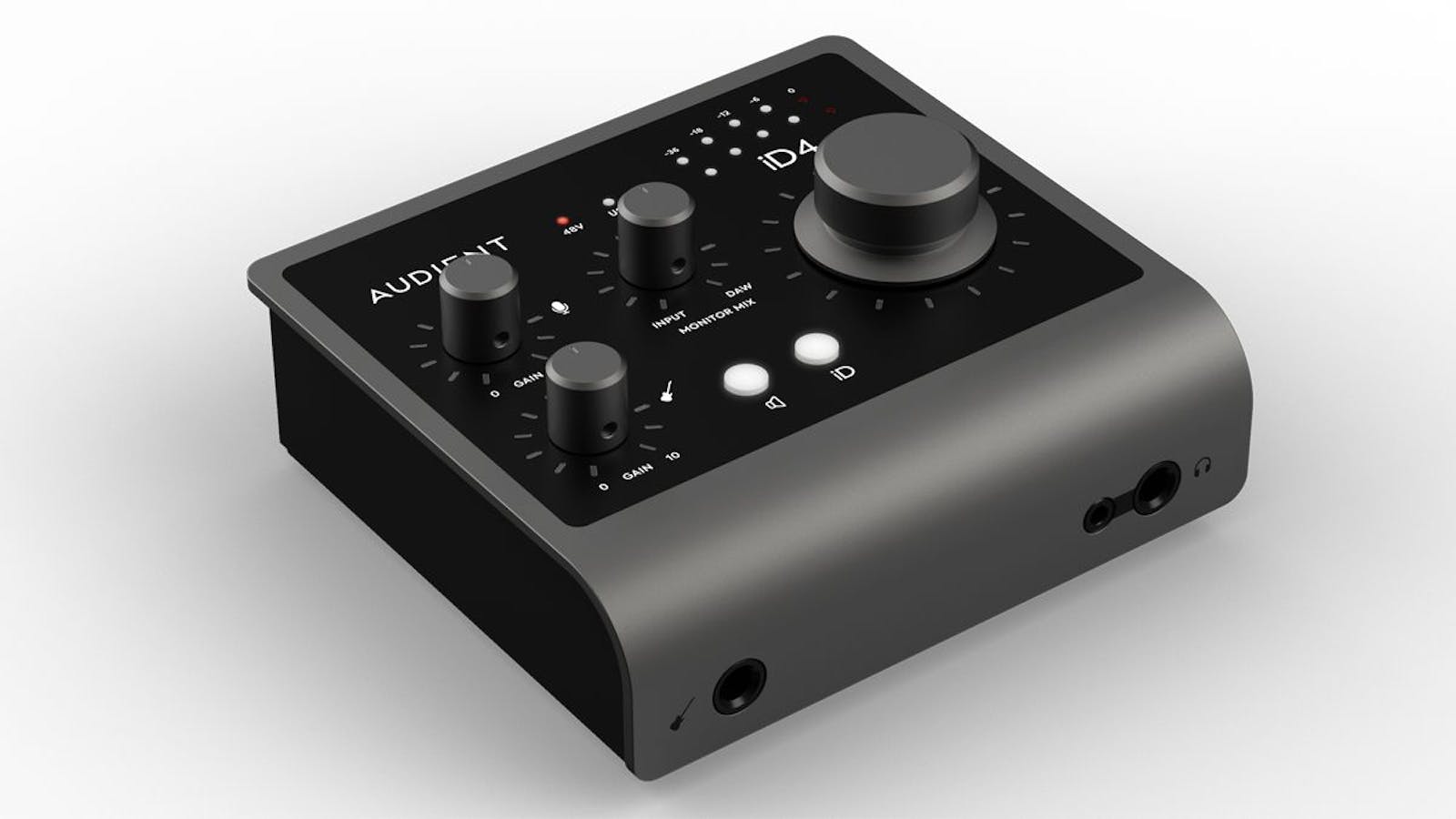 Inputs: 1 x XLR-1/4″ combo, 1 x instrument
Outputs: 2 x 1/4″ TRS, 2 x headphone jacks
OS: Mac/Windows
Connectivity: USB-C
Pros: Proprietary easy-to-use ScrollControl tech lets you adjust plugins with the rotary encoder, loopback feature
Cons: Limited inputs
For 2021, the Audient iD4 audio interface has been updated with some very useful new features. The signature Audient microphone preamp is still connected to a combo XLR input on the back, as well as an instrument channel on the front, on the two-channel iD4 MkII. It is USB 3.0 compatible and does not require a power supply.
There's a dedicated mute button, and pressing down on the hefty rotary volume knob dims the output by 15db right away, which any audio engineer worth their salt will tell you is extremely useful.
Loopback is the coolest new feature on the iD4 MkII and its bigger brother, the iD14. The iD4 is ideal for streamers, podcasters with remote Zoom guests, and more because it allows you to route two virtual audio inputs from any other program on your computer into Pro Tools or Cubase LE (which comes bundled with the interface).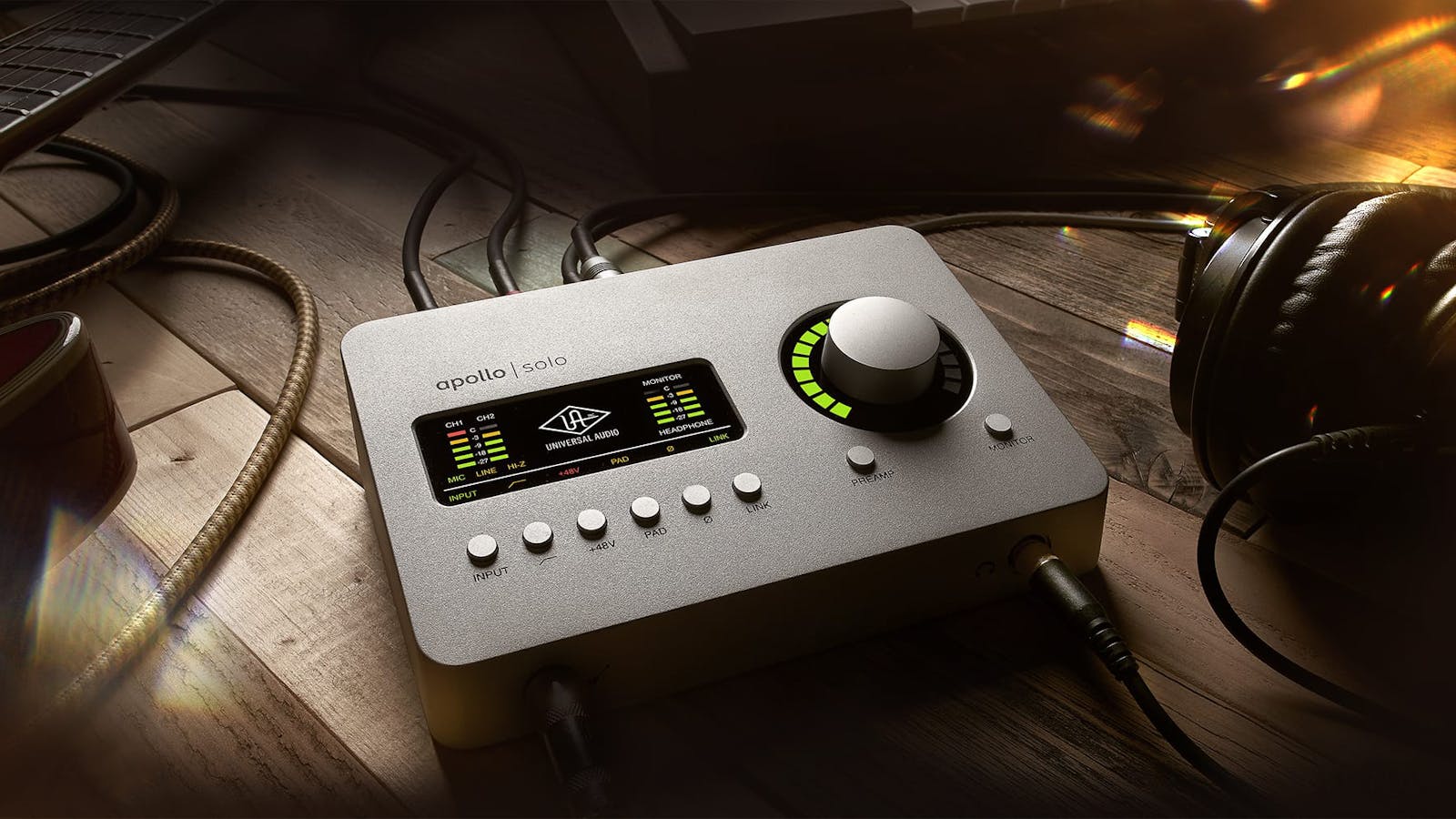 Inputs: 2 x XLR-1/4″ combo, 1 x instrument
Outputs: 2 x 1/4″ TRS, 1 x headphone jack
OS: Mac/Windows
Connectivity: Thunderbolt, USB-C
Pros: Best-in-class Unison preamps, UAD DSP support, USB-C option for Windows
Cons: Only one DSP chip
For nearly a decade, UAD's Apollo series has produced some of the most popular audio interface lines on the market, and the company's new Apollo Solo interface is no exception. The main selling point is the built-in digital signal processing (DSP), which allows you to record and mix using onboard UAD Powered Plugins without putting too much strain on your computer's CPU.
The Apollo Solo is the company's newest entry-level model, but it comes with professional features: There are two XLR mic/line combo inputs with Unison preamps, one instrument input, a headphone output, and two line outs for connecting to studio monitors.
Because it comes with UAD's Realtime Analog Classics plugin bundle, the Apollo Solo is great whether you're a complete beginner or have a few years of production experience. As a result, classic compressors (1176, LA-2A) and EQs (Pultec EQP1A and others) will be emulated.
The Apollo Solo is also available in Thunderbolt and USB-C versions, allowing Windows users without Thunderbolt ports to finally get their hands on UAD's coveted plugins. For those who are curious, Thunderbolt's benefit is that it reduces "round trip" audio latency. With USB, the latency is around 4.5 milliseconds. It takes less than 1 millisecond with Thunderbolt. (Don't have a USB-C port but want to use UAD? Take a look at the Apollo Twin USB.)
Inputs: 2 x XLR-1/4″ combo, 1 x instrument
Outputs: 2 x 1/4″, 2 x headphone jacks
OS: Mac/Windows
Connectivity: USB-C
Pros: High-quality display panel, fantastic preamps, great Apple Logic Pro X integration
Cons: Pricey for an "affordable" option, need external ADAT expander to tap into full input potential
If you already have a home studio setup and want to upgrade, the Apogee Symphony Desktop audio interface might be the way to go. It costs more than the Apollo Solo with the same number of combo inputs, but it can handle up to ten audio inputs in total. As long as you have an ADAT expander (such as the Focusrite Scarlett OctoPre or the MOTU 8pre), you could record an entire drum kit with just this interface.
There are some similarities and key differences between Apogee and Apollo. The Apogee Symphony Desktop and Apollo Solo series both have on-board DSP to emulate classic analog hardware, but the Symphony has a colored FET circuit for the instrument input. This gives your direct-in electric guitar a little more flavor, similar to how a tube amp warms up a tone's character.
The Apogee Symphony Desktop has two separate headphone outputs and, unlike the Apogee Solo, it also supports USB 2.0. So, if you have an older desktop or laptop, the Symphony might be the way to go.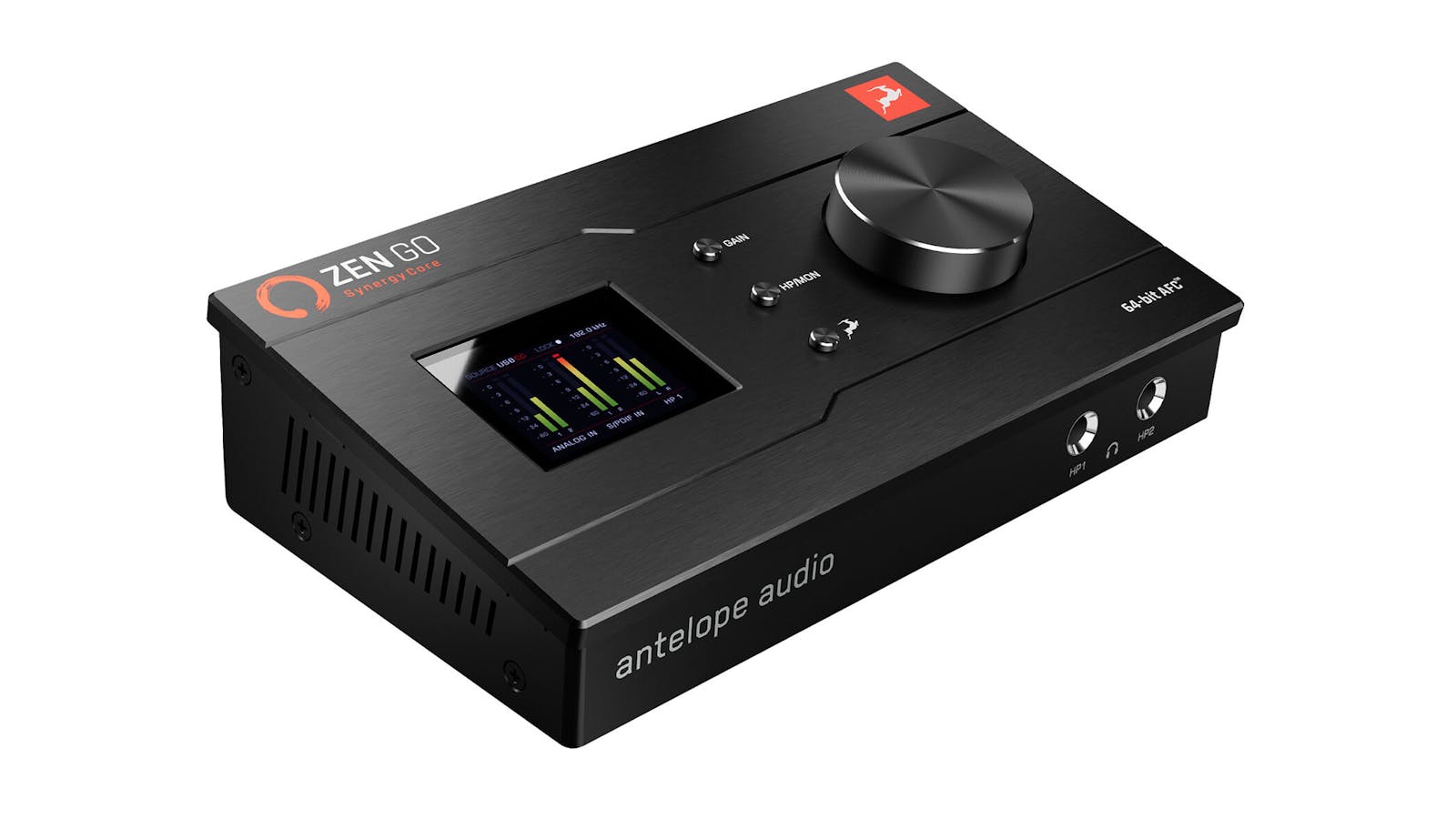 Inputs: 2 x XLR-1/4″ combo, 1 x digital RCA (SPDIF)
Outputs: 1 x stereo RCA, 2 x 1/4″ TRS, 2 x headphone jacks
OS: Mac/Windows
Connectivity: USB-C
Pros: One of the most affordable DSP-capable interfaces, huge plugin bundle with guitar FX, can use DSP FX without a computer
Cons: AFX2DAW plugin bridge only available on Mac
Antelope, unlike Universal Audio or Apogee, is a newer company that specializes in digital audio gear. The Zen Go, the company's entry-level audio interface, is less expensive than the Universal Audio Apollo Solo and Apogee Symphony Desktop, but it has similar specs.
It has two combo mic/line/instrument inputs and can be upgraded to four total inputs if you have another interface with SPDIF out, such as the Scarlett 6i6. It also has RCA, TRS, and two front-panel headphone outputs with separate volume controls, as well as multiple output options.
The main difference between Antelope and Apogee, aside from price, is portability. The Zen Go, unlike the Symphony Desktop, does not require a power supply. Instead, it gets its power from the USB port. It also has 37 Synergy Core DSP effects built in, including EQ, reverb, and several different iconic guitar amps and cabinet models. The Zen Go is a great interface for guitarists who want to use FX without a computer because these are run using the onboard DSP.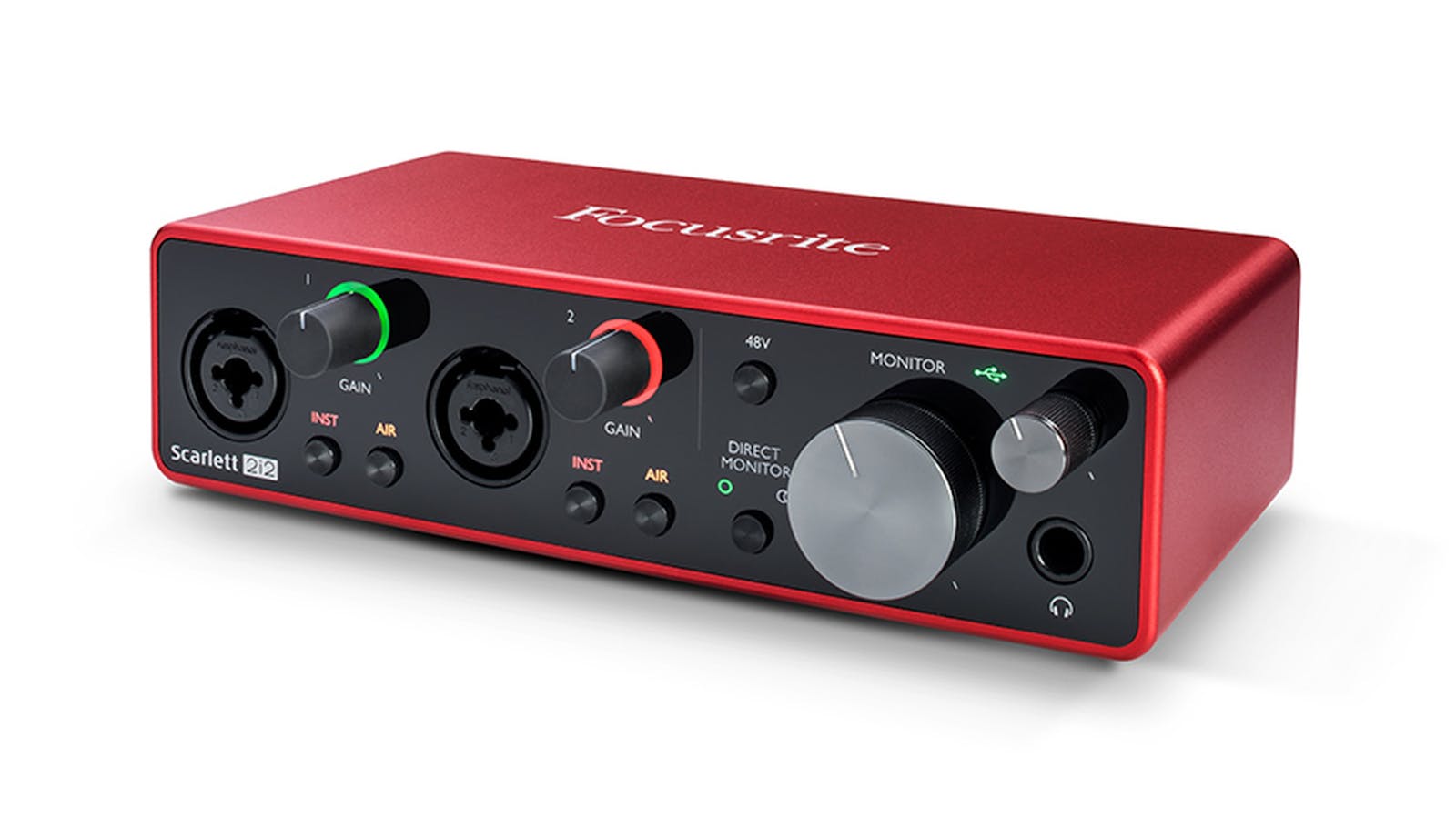 Inputs: 2 x XLR-1/4″ combo
Outputs: 2 x 1/4″ TRS, 1 x headphone jack
OS: Mac/Windows
Connectivity: USB-C
Pros: Easy direct monitoring, "Air" button reproduces the sound of Focusrite's ISA mic preamp
Cons: Limited output options, No individual channel phantom power
If you go to a big-box music store to buy a music interface, you'll almost certainly see the Focusrite Scarlett 2i2 on the shelf next to its big brothers. These are the world's best-selling audio interfaces because they're dead simple, with easy-to-use controls (no digital panels or mandatory control software to learn), solid preamps, and great build quality at affordable prices.
If you're looking to get into home recording for the first time, the 2i2, which comes with the Lite version of Ableton Live, Pro Tools | First, and other software, is a great place to start. It's a low-cost audio interface with a lot of features from a well-known audio brand. Upgrade to another Scarlett model, such as the 4i4, 8i6, or 18i8, if the number of inputs is a concern. Alternatively, the 18i20 is an eight-channel audio interface that can simultaneously record up to 18 channels on your computer.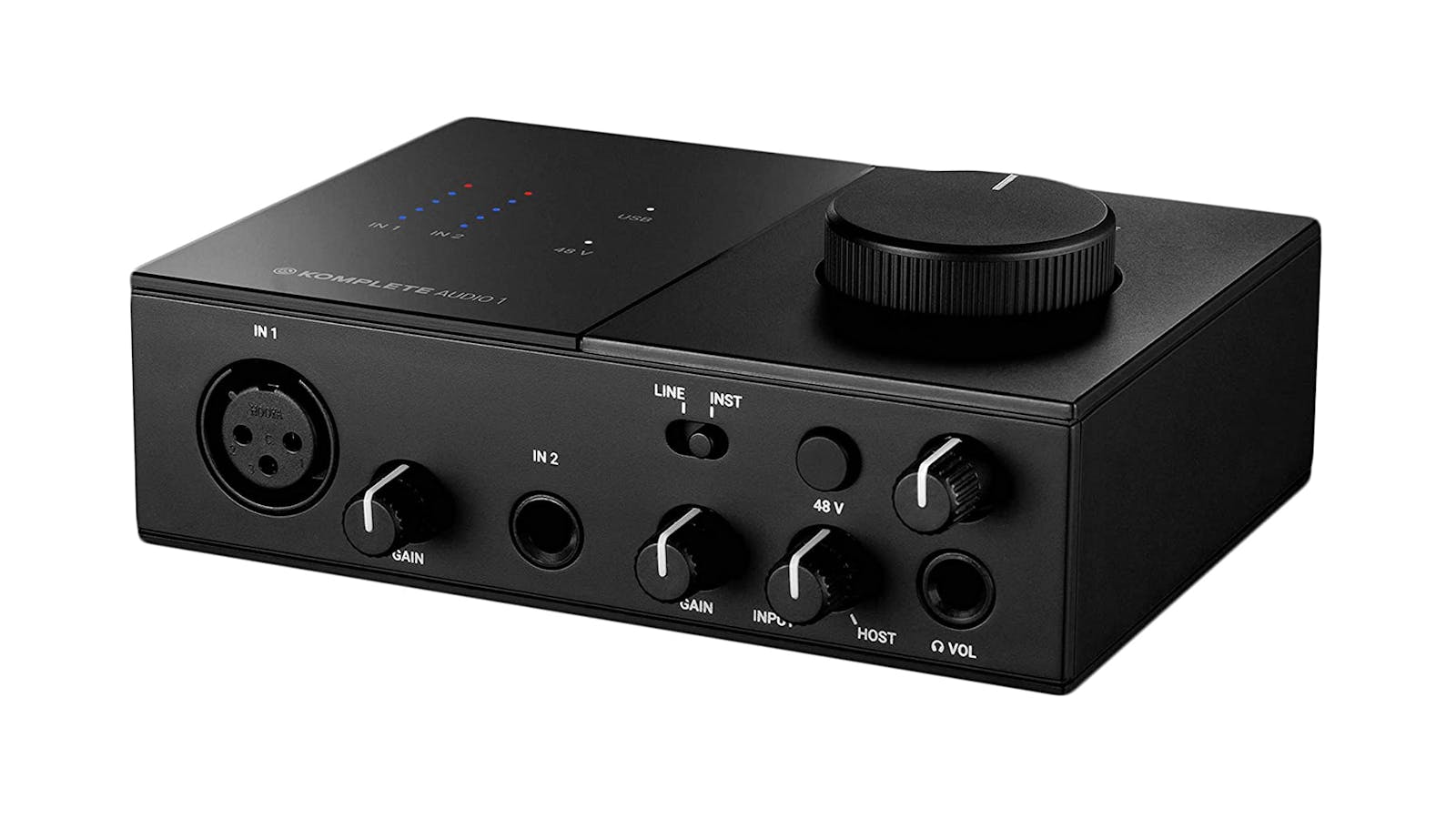 Inputs: 1 x XLR, 1 x instrument
Outputs: 1 x dual RCA, 1 x headphone jack
OS: Mac/Windows
Connectivity: USB 2
Pros: Best bang for the buck for beginners, great package of NI plugins for producers
Cons: Limited inputs and outputs
If you don't do much recording and prefer to work with Ableton Live or FL Studio for production, or if you already use Native Instruments software like Massive or Reaktor, the Komplete Audio 1 (or the expanded version, the Komplete Audio 2) may be for you. It's a basic audio interface with no frills that gets the job done.
The Komplete Audio 1 is one of the best beginner interfaces available: it's built like a tank and has extremely stable drivers, which should appeal to anyone working with an older computer who doesn't want to spend hours troubleshooting. It also includes a number of NI plugins, such as Monark, Replica, and the popular Solid Bus Comp compressor, among others.
Inputs: 2 x XLR-1/4″ combo, 2 x 1/4″ TRS, 1 x dual RCA,
Outputs: 4 x 1/4″ TRS (Can connect two sets of monitors), 2 x headphones (1/4″), 2 x headphones (1/8″)
OS: Mac/Windows
Connectivity: USB 2
Pros: Tons of I/O, built-in USB hub, great for electronic live performance
Cons: Front panel can be intimidating and complicated for beginners
With the AudioFuse Rev2, Arturia, a company known for its plugin FX and synths, brings that same spirit of innovation to the USB interface market. It has more hardware features built-in than almost any other interface on this list, including a monitor A/B button for switching between different speakers and a built-in talkback microphone for recording a vocalist in an isolation booth. The AudioFuse Rev2 includes emulations of classic effects processors like the Roland Space Echo and the Mutron Bi-Phase for plugin fans.
This elegant aluminum unit contains a surprising amount of I/O. In addition to the four headphone outputs, you can expand the I/O to 14 inputs and 14 outputs by using ADAT or SPDIF. The AudioFuse Studio Rev2 is ideal for electronic musicians who want to try their hand at putting together a live show and need the most adaptable interface as the focal point.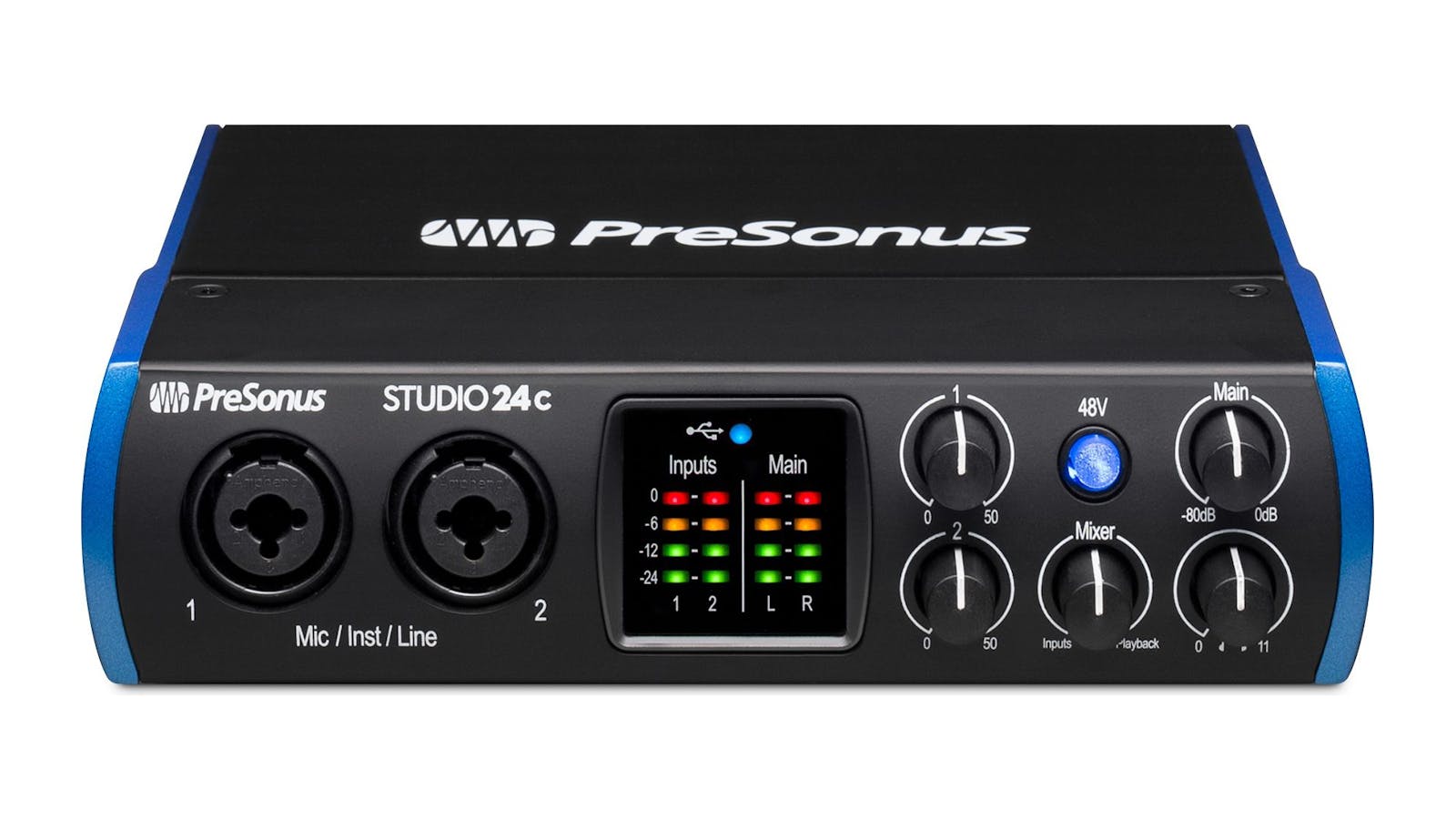 Inputs: 2 x XLR-1/4″ combo
Outputs: 2 x 1/4″ TRS, 1 x headphone jack
OS: Mac/Windows
Connectivity: USB-C
Pros: MIDI I/O tough to find in this price range, easy-to-use control software, built like a tank
Cons: No creative tone-shaping hardware options
The PreSonus Studio 24C audio interface is a workhorse. It lacks some of the more opulent features of its rivals, but it's built to last, with an all-metal chassis and rubber feet that keep it firmly planted on your desk.
PreSonus' Universal Control software also includes loopback, which gives you more internal signal routing options if you do any audio work other than music production, such as streaming or podcasting. It's a fantastic budget option, especially if you can find it used.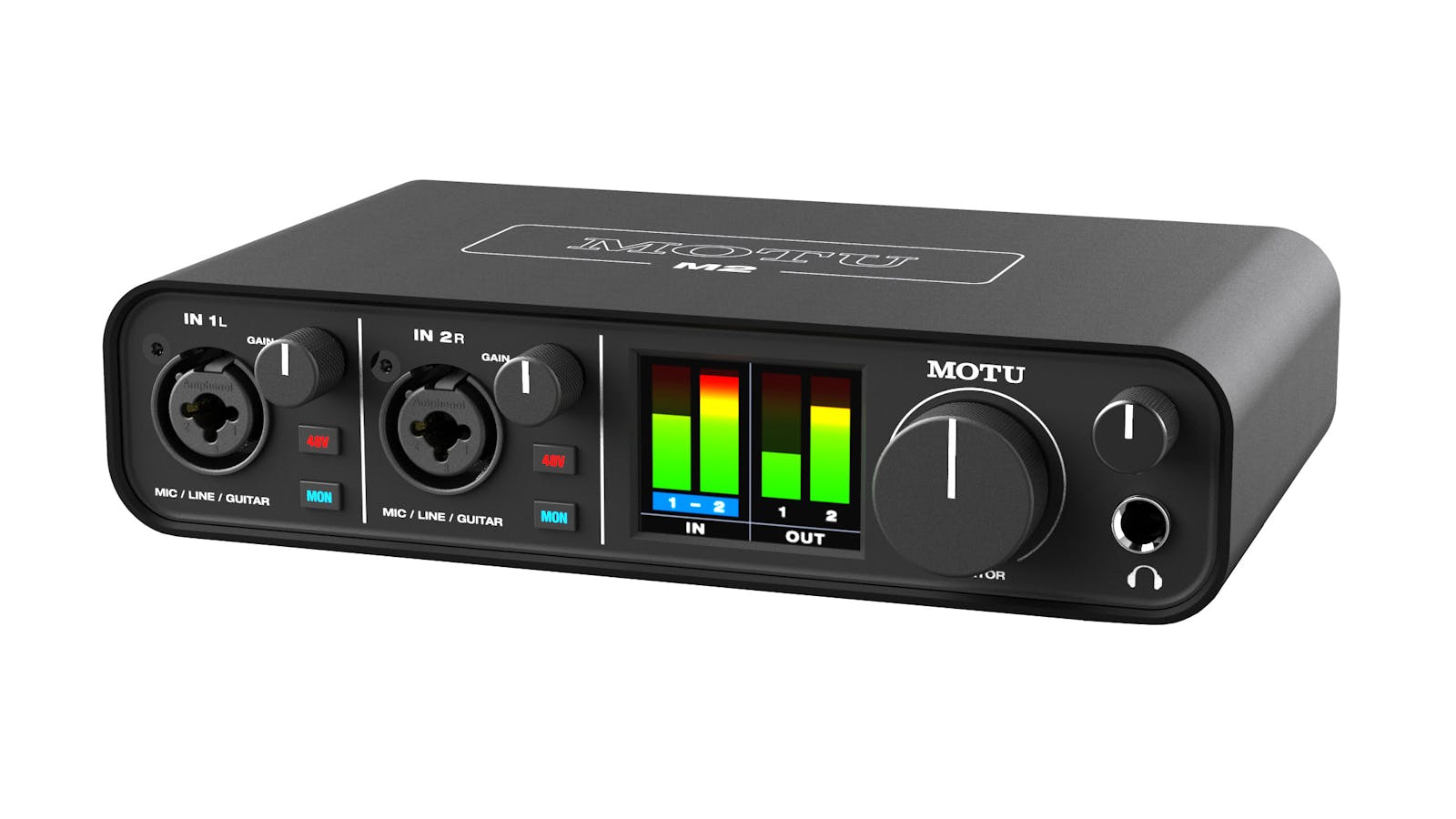 Inputs: 2 x XLR-¼" combo
Outputs: 2 x ¼" TRS / 1 x dual RCA
OS: Mac/Windows
Connectivity: USB 3-C
Pros: One-touch direct monitoring for each channel, high-resolution level meters on the front
Cons: No creative tone-shaping hardware options
The M2 and M4 bring MOTU's commitment to quality to a smaller, more accessible USB interface. MOTU is known for professional-grade interfaces rather than entry-level gear, but the M2 and M4 bring that commitment to quality to a smaller, more accessible USB interface. The high-resolution front-panel level meters are the most appealing feature, as they allow you to better monitor your input gain while recording to avoid digital clipping. Individual +48v phantom power switches are excellent, and each channel has its own one-touch direct monitoring. This means you can monitor your recording directly with just one button press, without having to worry about latency.
The M2 also doesn't require or come with any third-party installers, which is a big plus if you don't want to deal with another piece of software. However, loopback via a driver is supported, which is a huge plus. It also includes MOTU Performer Lite and Ableton Live 10 Lite, making it ideal for total beginners looking for a budget-friendly interface.